Hello my name is Kuwabara . ~
Speaking in English on a daily basis is something I have to get used to . There are challenging situations wherein I need to use English and make sure I sound clear. I have always been starving most especially during night time. It disturbs studying, so I wanted to eat out, but there is no 24-hour restaurant near Chapis campus. However, this is a challenge! One great English challenge. I am going to share my experience calling Jolibee Delivery Service.
Make a careful planning most especially if it's first time to call. Here are my tips!~
1. Get a Jolibee leaflet and choose your order; write it down so it will be easier for you to tell it to the food attendant.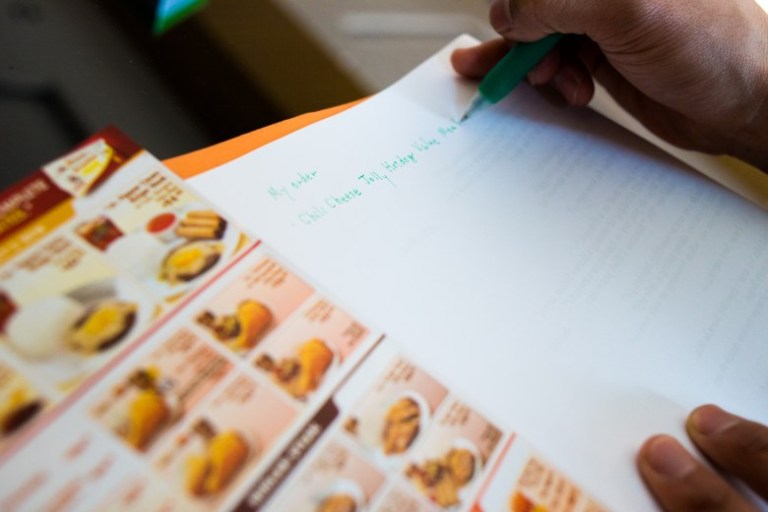 2. Make sure you prepared your order especially when you order thru the phone, you will get tensed if not. Practice the pronunciation of the set meal so the attendant will get it precisely.
3. Check your addressThey will ask your address. Maybe you guys do not know Chapis campus' address.Here's the address:#49 Al-Fer Building Chapis Village, Baguio Benguet.
4. Make the call.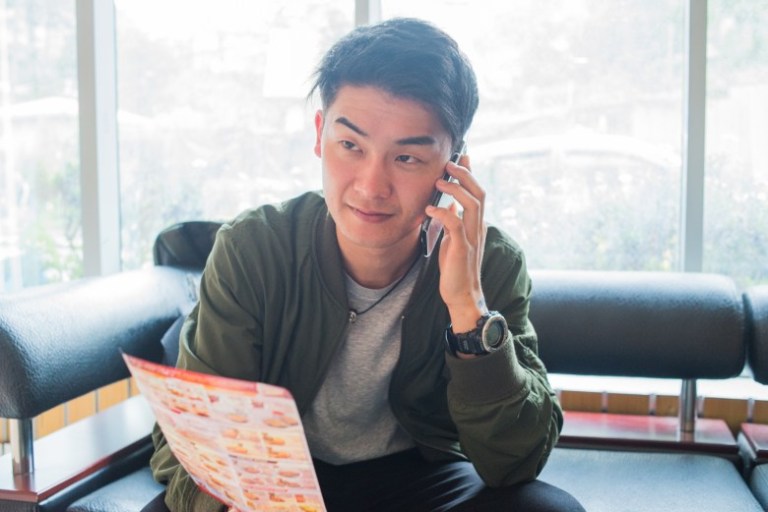 *When you call, it will be connected to an automated voice message. After few minutes, a delivery operator will answer.
"Hello..blah blah blah….. May I have your name please?" The attendant suddenly asked for my name. I did not expect this (because I was a little tensed), but they need my name to confirm everything.
*
ME: My name is Koichi Kuwabara.
Operator: Excuse me sir. I can't hear you clearly.
*OMG. They could not get it. I guess because they are not familiar with Japanese name.
When you face to this kind of situation, use what you learned in PINES.
ME: Koichi Kuwabara, K as in Key, O as in Opinion, I as in Ice …. (spell your name out)
*A as in Apple, B as in Banana
This is a common expression to deliver spelling on the phone. You will learn this basic English skill in intermediate level class.
They will ask your address after asking your name. I told them the address and they said the place is not their delivery area then they hang up the call..After couple of minutes, I got a message and it said
"Hello. Blah blah blah… May I have your name please?"We had same conversation with ordering using cell phone. However, this time, they asked me whether the address they have is correct or not. As I expected, when you use landline phone, they already know your address.After this, they asked me my phone number to make sure I was the one who ordered. When I ordered, they asked me whether it is single dish or set. If it is a set, they ask what drinks and French fries size I want to order, or if you want to upgrade the size of your food item.
Last step is for them to confirm your order , they will repeat what you have ordered including the quantity (how many, how big). They asked me how much money I will prepare for the delivery. What I mean is ,they want to know if I will pay exact or they will prepare a change for my money. This time I paid 297peso. After 30minutes, the delivery man came by motor. Then, I paid and got my food.
Here is summary of ordering process on the phone:
Choose what you will order in advance (ex.: set menu and size of drinks)
Check your call settings; go to a place where there is a strong signal
If you are lazy to tell your address, use landline phone. (They can confirm your location)
---
Example of ordering on the phone
The example dialogue is as follow. Practice before you call.
Jollibee: Thanks for calling Jollibee delivery. Can I have your full name please?
「お電話ありがとうございます。お名前をおしえていただけますか?」
Me: Hi, My name is Koichi Kuwabara. K as in Key, I as in…….
「はい、桑原功一です。」
Jollibee: Okay sir. Can I have your address please?
「住所を教えていただけますか?」
Me: #49 Al-Fer Buildding Chapis Village, Baguio Benguet.
「49 アルファービルディング チャピスビレッジ バギオ ベンゲットです。」
Jollibee: What would you like to order, sir?
「オーダーはお決まりでしょうか」
Me: I would like two Yum Cheeseburger value meal with Coke large size.
「ヤムチーズバーガーのセットのふたつドリンクはコーラのラージで」
Jollibee: OK,Sure. two Yum Cheeseburger value meal with Coke large size, is that it?
「かしこまりました。ヤムチーズバーガーのセットのふたつドリンクはコーラのラージ、以上ですか?」
Me: yes, that's it.
「はい、そうです」
Jollibee: Sure. It'll be 297 pesos thank you for your order.
「かしこまりました。297ペソになります。」
Me: How long does it take?
「どれくらい時間がかかりますか?」
Jollibee: The delivery will take about 30 minutes.
「だいたい30分ほどかかります、」
Me: Okey thanks.
「わかりました、ありがとうございます。」
Jollibee: Thank you sir, Bye.
「ありがとうございました」
---
It was a nice experience for me. I was challenged and used my litening skill as the quality of my phone's sound was not good. Also I need to pronounce well and correctly. In addition, it was a good chance to practice English that I have learned in PINES.
Why don't you try ordering on Jollibee when you are hungry? This experience will make you feel good and fulfilled.