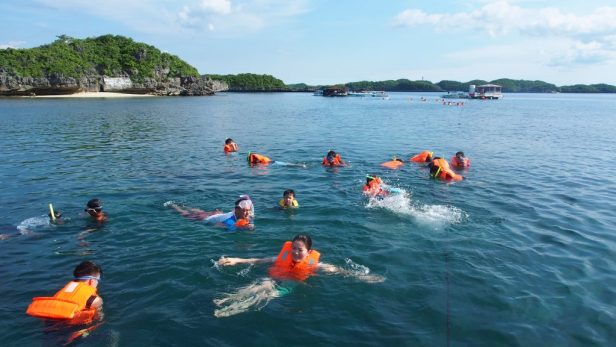 Who says that traveling and studying English in the Philippines can't go hand in hand? This month, our English students from Mongolia went outside the confines of their classrooms during their study abroad ESL life as they went to travel to one of the most popular tourist spots in the country – Hundred Islands.
This is Mars and let me tour you around for a bit. Let's go~
Known for its clear blue waters, diverse marine life, white sand beaches, and beautiful sunsets, Hundred Islands is always part of the weekend itineraries of local and international tourists alike. So then, what kinds of interesting activities can we see in this one of a kind paradise?
We listed five of the most accessible things to do to get you started. Are you excited? Read on and choose your next adventure ~
1. Island Hopping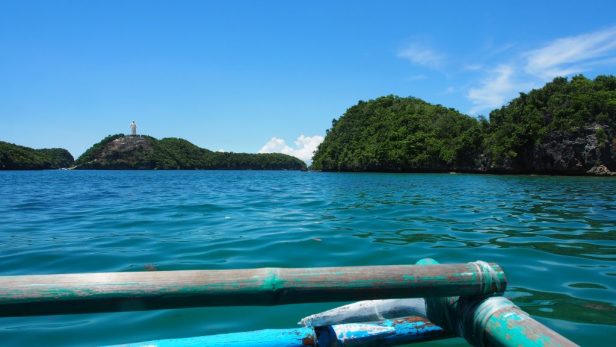 Feast your eyes with the vibrant assortment of blues and greens while you visit one island to the next. The journey on boat going to the main islands is already a good activity for loosening up those overworked brain cells and muscles. With a total of 123 islands (124 during low tide—awesome, right?), you will have an escapade of a lifetime. Although visitors cannot set foot on all the hundreds of nature's masterpieces, the special spots designated as public attractions are more than enough to fill your thirst for nature and adventure.
2. Helmet Diving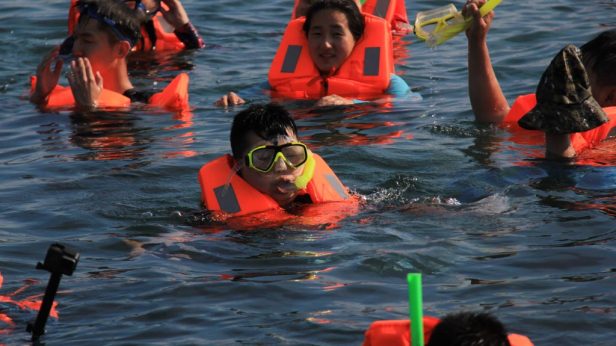 If you find pleasure in looking at the picturesque views of the seaside, you might also want to plunge further and literally bask in the cool, clean, and clear waters of this natural beauty. Helmet diving and snorkeling will give you a new perspective on aquatic life as you see firsthand how corals and fishes make up their ecosystem. The place is well taken care of and the government is keen on maintaining the balance of both tourism and preservation in the area. Now, that's what we call having an up close and personal experience with nature! (For helmet diving, see the video at the end of the post)
3. Kayaking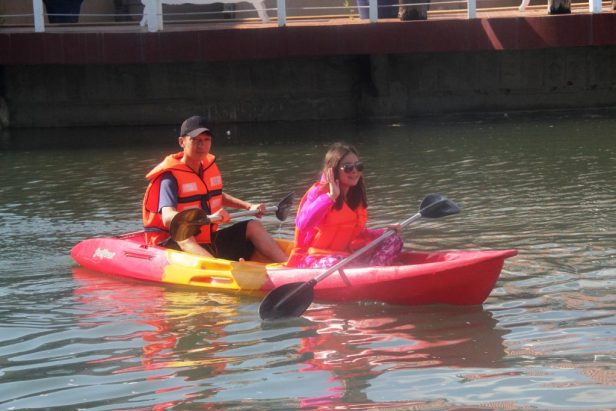 Want to do something physical? Kayaking is the best choice. You can go with your buddy or your family member and have a nice bonding time together while gazing at the picture perfect sight. It's a nice way to relieve stress and have a moment of self-reflection. So for those who like to move it, move it grab your paddles and get those arms rolling. You don't need to rush though, just take your time and roll over the ocean, roll over the sea.
4. Zip Line
Ah, zip line! Who would forget this one? It's now one of the most common attractions for the adrenaline seeking youth and children-at-heart. Aside from the heart pumping and cold sweat, what makes every zip line unique is the aerial view you get while stylishly sliding down from point A to point B. Here, you get to see a 360-degree version of the place while feeling like a superhero in the air—truly a sight to behold. This is perfect for all those who enjoy hanging around too much (pun intended).
5. Sunset Viewing
You started the day well so you should end the day the same way, too! Remember the cool, clean, and clear waters we mentioned earlier? They now turn to red, orange and gold—like flames engulfing the ocean. The array of warm colors painted on the sky and reflected on the sea will surely give you warmth and comfort, especially when gazing at this splendor with your loved ones. Get your cameras ready (or just sit comfortably on the sand) because sunsets in the Philippines are one of the most beautiful ones you can ever lay your eyes on.
What else?
There you go. Those are our top five things to do in Hundred Islands, Pangasinan, to get you ready with your off-land mini journey. Of course we didn't list all here as you will also need to explore the fun for yourself. We don't want to spoil everything. Before we go, we will leave you with two more bonuses – cave jumping and seafood feast. Your stomach and your adventure hormones will have a delicious treat!
This has been Mars~ Tune in for more posts from us. What are you waiting for? Bring your swimming gear, your cameras, and of course your favorite people and have a blast!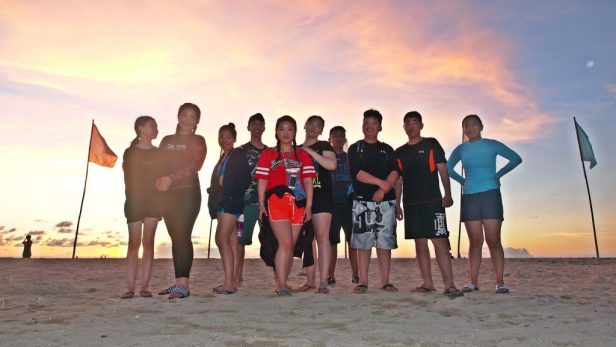 Do you want to see how our Mongolian students' weekend trip in Hundred Islands went?
Article: Marianne Rabang | Photos: Marianne Rabang